Donna Appleby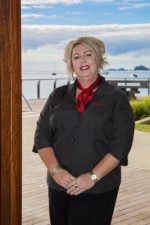 Sales Representative
When Donna joined the Elders real estate team and she brought with her a very strong retail sales background combined with excellent customer service skills. Donna has an excellent reputation with the locals for being trustworthy, having integrity and projecting a 'glass is half full' outlook. In her previous management position, Donna and her team won numerous state awards. She has a bubbly personality and a positive attitude.
Donna has lived in Long Beach for the last ten years and prides herself on having a good knowledge of the area and a genuine love of the South Coast.
Donna's goal is to treat all her purchasers and owners as if they were part of her family and strive to get the best possible financial outcome. She promises to go the extra mile and commit to each and every client.
(02) 4472 1488
(02) 4472 1408
0457 136 662